Thanks for taking the time to visit the website. Before I go into the details about the offer I wanted to answer the #1 question that nearly everyone wants to know. What makes Modern Carpet Cleaning Different? The answer is in the 10 Step Cleaning Process we provide. I encourage you to take the time to read about all the steps. No other company in the area will put more effort into cleaning your carpets!
Now on to the details about the offer. $99.00 for 3 rooms of carpets up to 360 Sq ft. Most bedrooms fall into this category when you take out for the heavy items most people have us go around. If your rooms are smaller we would could include extra areas like a hallway or bathroom. No matter how many rooms you have us clean the first 360 sq ft are only $99. The price includes our complete 10 step carpet cleaning processwithout any hidden charges or gimmicks. This offer is over 20% off, so it is for new customers only.
The reason for the offer is to introduce ourselves to you. When you experience how clean your carpets are and realize how much longer they stay clean, next time you wont mind paying a little bit more. I do encourage you to have me come to your home for free and do an in home estimate. It would give you the chance to meet us, and see that we are a great company to do business with. Also I will measure your carpet, give a good idea of clean-ability and then give you a written price before the day of cleaning so there are no surprises. So please call us today at (530) 345-3330. I look forward to meeting you.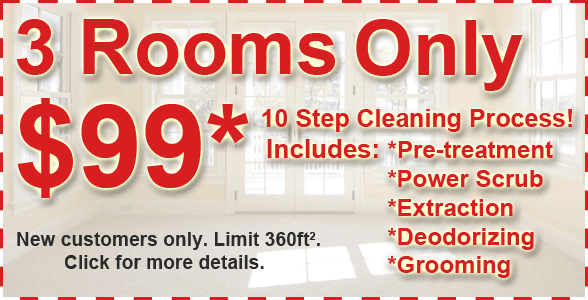 Hurry! Expires : February 28th, 2018