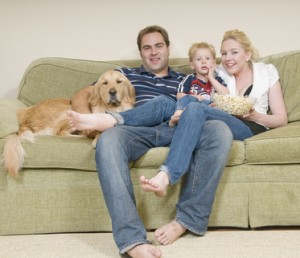 Modern's professional upholstery cleaning technicians are trained in the proper care and cleaning of all fabrics, even the most delicate, so you can be at ease in knowing your furniture will be cleaned properly. Using special tools and the best upholstery cleaning solutions available they?ll ensure the entire piece is thoroughly and safely.
Modern's 5 step cleaning process is the best available in the area.  From Microfibers to Plush, every step is designed to get your Upholstery Cleaner and help it stay clean much longer.
Step 1.  Pre-vacuum,  This is an important first step in fabric cleaning.   We use a special hand-held vacuum with a beater brush to remove hairs and fine soil from the upholstery before it is cleaned.
Step 2.  Pre-treatment.  A cleaning agent is applied to the upholstery to assist breaking down the oils from your skin and even the oils from pets fur.
Step 3.  Hand Scrub.   A pre-treatment is not enough to completely break down the oils in the fabric.  We hand scrub the fabric with a Horse Hair brush designed specifically for cleaning furniture.
Step 4.  Extraction Rinse.  We now use the powerful truck-mount extractor to flush out the dirt and cleaning agents from you furniture.  Extra drying passes are performed to help the furniture dry faster.
Step 5.  Fabric Protector.  Furniture is extra sensitive to getting re-soiled quickly after cleaning because it comes in direct contact with your skin.  Because of this we apply a Anti-Soiling protector on the furniture after cleaning.  This will help repel the oils on the skin and helps the upholstery stay clean much longer!